The training sessions of the AGEA Start-up Class (ASC) 2022, which started on 8 March, successfully ended on June 8 2022. Since commencement, the online training sessions have been a virtual place for sharing vital knowledge and information among participants and trainers. The objective of the ASC is to enhance the innovative and viable business start-up projects and ideas in research outcomes conducted by lecturers, professors, researchers, post-graduate students and alumni of African universities and HEIs. The training and coaching sessions increased the capabilities and knowledge of academics on establishing business model development and related topics.
The training began with participants from 15 start-up projects, mainly from AGEA Business Idea Competition 2021, Pan African Universities Innovation Challenge 2021 and the ABSbio project.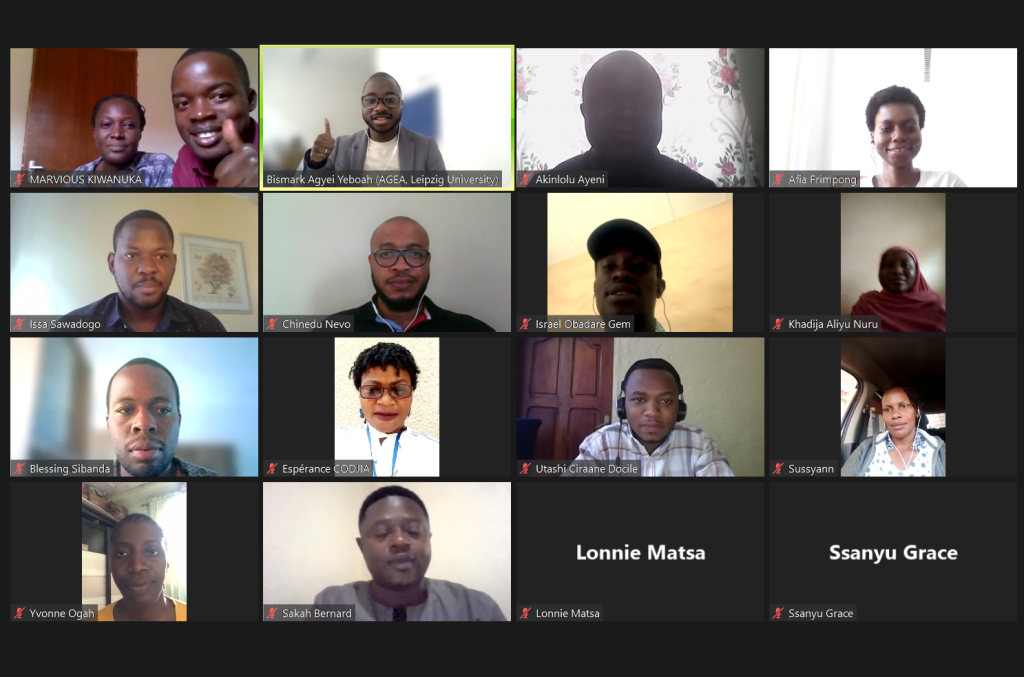 The six bi-weekly training sessions were held with trainers from SMILE and SEPT. The main topics covered key aspects of business development, including value proposition design, profit model design, marketing and distribution, business systems development, enterprise resource planning, financial planning and start-up financing opportunities. Participants were introduced to innovative tools and templates for each topic to apply to their start-up projects. These include customer demand profile, value map, product model, customer growth canvas, 10 types of innovation, unique resource analysis, production process mapping, and financial planning tools, among others.  The trainers include Johannes Göckeritz, Gundula von Fintel, Markus Maier, Christian Hauke, Prof. Dr. Utz Dornberger and Christian Scheffler. The trainers also served as coaches for at least two start-up projects to help them implement the tools and further develop their business models.
In summary, the training sessions and the individual and tailored coaching sessions added more value to the start-ups. The start-ups are equipped to pitch their ideas to attract investors and other start-up funding opportunities and resources to move them to the next stage of their business plans and models.
The three months of input and output from tailored coaching sessions were characterised by hard work and commitment from participants, trainers, and coaches. The feedback and evaluation from participants show that the AGEA Start-up Class 2022 was efficacious to them as they were enthused about the training session and glad they could participate.
To stand the chance of joining the next ASC in 2023, we encourage you to participate in the AGEA Business Idea Competition 2022.