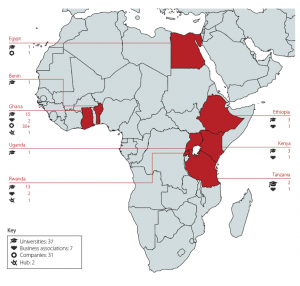 African German Entrepreneurship Academy (AGEA) is a joint initiative and an energetic network developed by the International SEPT Program of Leipzig University in cooperation with its partners in Africa and Germany. The aim is to promote cutting-edge entrepreneurship education in Africa as well as the establishment of practice-oriented cooperation with start-ups and businesses. AGEA contributes to the improved employability of graduates through a high level of practice orientation.
AGEA empowers Higher EducationalInstitutions in entrepreneurship promotion activities especially business incubator establishment. It encourages the establishment of vibrant business linkages. Knowledge is shared between universities and business associations in Germany and the African partner countries.
AGEA gives a key role to south-south knowledge transfer. Through its two hubs in Africa – KNUST in Ghana and INES-Ruhengeri in Rwanda. AGEA organizes Training of Trainers in entrepreneurship promotion and international summer schools for students.