Three winners emerged from the Grand Finale of the AGEA Business Idea Competition 2021, which was held on 07 December 2021, as part of the 5th International iN4iN Conference. The conference was held online with about 180 participants from all over the globe.
The jury announced the three winners after an exciting and keenly contested video pitch session followed by a Question-and-Answer session with the jury. The audience was not left out as they had the chance to vote for one of the ideas to win an Audience Award prize. Here are the winning ideas and teams.
REALNUTRI Rice Flour by  Dr. Ssanyu Grace Asiyo, Marvious Kiwanuka and Dr. Michael Bamuwamye from Kyambogo University, Uganda, emerged as the First Prize Jury Award. They receive a €1,000.00 cash prize to support their project.
The Second Prize Jury Award went to eTrash2Cash by Salisu Abdullahi, Khadeeja Al-Noor and Chiroma Hassan from Bauchi State University, Nigeria. This idea also won the Audience Award as they garnered the highest votes as the audience favourite. They will be rewarded with a cash prize of €500 for each award.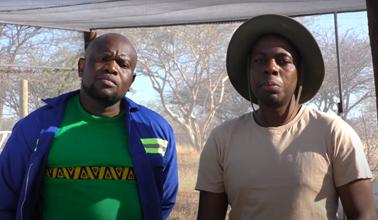 PlantLife, an idea by Blessing Sibanda, Josephine Pasipanodya and Lonnie Matsa from the Namibia University of Technology, won the Third Prize Jury Award. They receive a cash prize of €300 for the award.
We congratulate the three winning teams for their impressive work. Also, we congratulate the other three ideas (SAP Natural Insecticide, Alternative feed and natural additives for poultry and Bioremediation of brine wastewater for agricultural purposes) for making it out of 243 entries into the Top Six this year. We are grateful to all participants for sharing their ideas in this competition. We are already looking forward to AGEA Business Idea Competition 2022.
Here, you can read more about all the Top Six ideas for the competition.
All prizes for the winning teams, were sponsored by Conoscope GmbH, a firm in Leipzig that supports medium-scale businesses to explore and access new markets, develop business strategies, and promote innovations nationally, regionally, and internationally.
We are also immensely grateful to our project sponsors, the German Academic Exchange Service (DAAD) and the German Federal Ministry for Economic Cooperation and Development (BMZ).