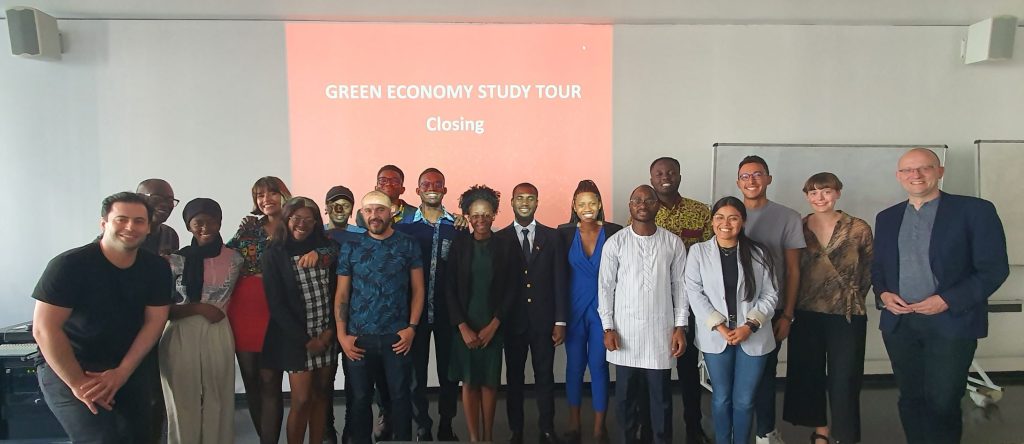 From 31 August to 04 September 2023, AGEA, in collaboration with the Digital Logistics Project, organized a five-day Green Economy Study Tour as a follow-up to the AGEA Business Idea Competition 2023. The event hosted six start-up teams of the seven finalists of the 2023 AGEA Business Idea Competition in person in Leipzig, Germany. The start-up teams were Solar-Powered Sensor Drone, Smart Farm, Kodu-pads from Kodu Technology, OzoneTech, Hermetiavity, and AgroPremium. The team from Garden in a box Africa (GarbA) participated virtually. Read about the start-up teams here.
The study tour sought to enhance start-up teams' business knowledge and capacities with fundamental knowledge and requirements for developing their business ideas and projects and promoting the international exchange of ideas for green economy and digitalisation. This enables them to harness the business potential of their research results and further helps them to develop their green business ideas into viable and competitive products and services for the markets and customers.
Activities of the study tour consisted of the AGEA Start-Up Class (Innovative Business Model Training), where participants received knowledge from experts on value proposition design, customer channel design, business systems design and enterprise management, financing start-ups, and business pitching. Participants were also exposed to the topic of the green economy with insights from Germany and through their visit to the Green World Tour Fair in Berlin. They also had the opportunity to visit the Social Impact Hub in Leipzig.  The last part focused on a cultural exchange, and participants had the opportunity to embark on a cultural visit and build networks.
The trainers and coaches were Prof. Dr. Utz Dornberger (SEPT Director), Bismark Agyei Yeboah (Coordinator, AGEA-ACCESS), Dr. Alireza Ansari (research fellow and lecturer, SEPT), JazmÍn Ponce Gómez (project manager, SEPT), Christian Hauke (business coach, SMILE), Christian Scheffler (business coach, SMILE), Vesa Vuorinen (Visiting lecturer at SEPT).  
The tour ended with a pitch session where the start-up teams presented their business pitches to the trainers and coaches based on the training received. As part of the audience for the pitch was  Benjamin Huss (a German entrepreneur and start-up coach). The feedback and discussion part allowed each start-up to clarify aspects of their business ideas projects. They also received recommendations on how the various start-ups could improve their ideas.
The participants were students and researchers from Ghana, Uganda, Zimbabwe, Tunisia, and Nigeria universities. They expressed their excitement to the organizers of the study tour and were optimistic they would improve their innovative ideas.
The Green Economy Study Tour was made possible due to the kind sponsorship of the DAAD.