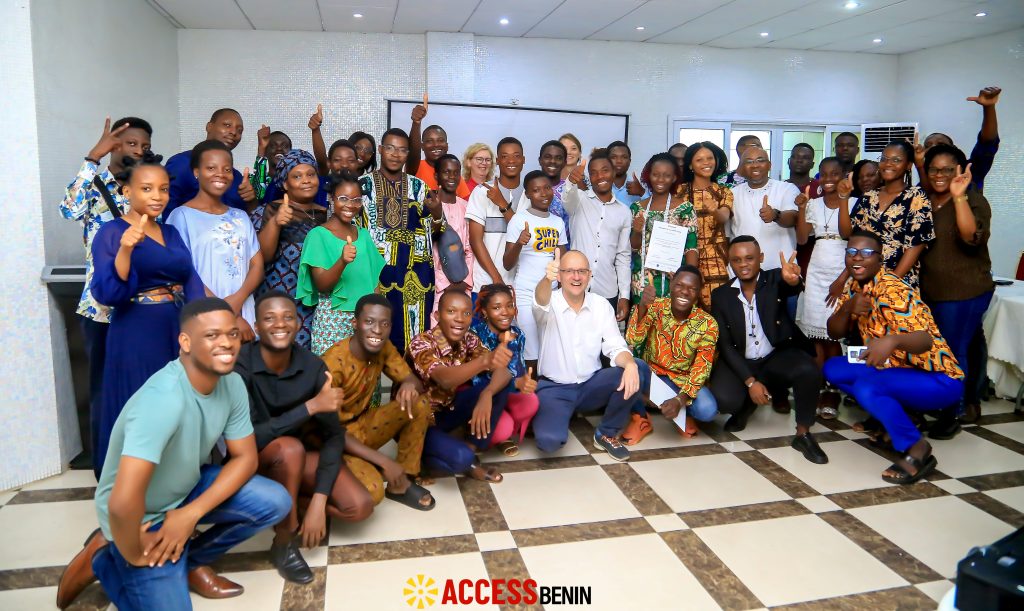 ACCESS Benin, led by IRGIB Africa University, organised "The Idea Market" Business Model Competition at 'Le Majestic' from 03 – 04 October 2023. The event was designed with a focus on enhancing the skills of participating entrepreneurs in three areas:
Investor Impressions: Entrepreneurs learned to develop presentations that capture investor attention and create new venture opportunities.
Sales Strategies: Participants delved into effective methods to address customer concerns and issues, ultimately leading to increased sales for their businesses.
Customer Base: The event emphasized the need for entrepreneurs to diversify their customer base, enabling them to attract a wider range of customer profiles.
With these tailored objectives, entrepreneurs were better equipped to benefit from 'The Idea Market' competition.
Prof. Dr. Utz Dornberger, co-founder of Conoscope GmbH, an innovation expert, and director of the SEPT Competence Center at Leipzig University, provided insights into the components of a successful elevator pitch. These components included identifying the problem to be solved, presenting unique solutions and selling points, comparing with existing solutions, describing the stage of development, assessing the market size, developing a business model, understanding market adoption, evaluating the team, and gauging the demand for the product or service in the market.
Prof. Dornberger used the example of SimRide Technologies Inc., a privately held public transport service for African cities, to illustrate his points. He also delved into creating compelling financial narratives and explained the process of creating a business model.
Following this, participants worked in groups. They engaged in an exercise where one team member applied the TAM (Total Addressable Market), SAM (Serviceable Addressable Market), and SOM (Serviceable Obtainable Market) methods for sales forecasting to their project idea. The discussion extended to revenue streams, investment plans, cash flow, income statements, sources of financing, and capital requirements, emphasizing various financing strategies. The session ended with the groups filling in their canvas models based on their business plans and presenting them, followed by a question and answer session.
Furthermore, Prof. Dr. Zacharie Vissiennon delved into quality management in business, and participating teams presented their business ideas based on a quality management system.
The 'Idea Market' competition commenced with nine exciting projects being presented, culminating in the announcement of the three winning teams. The first-place team, "AWU TCHE", was represented by Jemima Ibitayo Nonvignon. The second-place team, "Connectify", was represented by Julienne Ariori, and the third-place team, "Agrinex", had Georges Alex Meyiha as their representative.
You can get more information about ACCESS Benin on LinkedIn.